Overview
Fuel process improvement efforts for better patient care with RTLS.
Improve patient care, complete preventative maintenance, and lessen your staff's workload with a system that keeps a record of where your medical equipment is. Effectively distribute assets and reduce expenses by utilizing your equipment to its fullest potential. Proactively maintain your equipment with the ability to detect when they are due for a cleaning and/or maintenance.
Reduce patient wait times while increasing the number of patients seen with real-time data that allows you to see where your patients are and how long they have been waiting. Automatically collect workflow insight to help provide a prompt, pleasant patient experience while increasing exam room utilization, eliminating manual data entry, and improving processes.
In moments of crisis, enable staff with mobile panic buttons to signal staff duress. Receive an immediate location identifier to send assistance without delay. Create alerts to indicate when patients are outside of their assigned areas – this is particularly crucial for patients with Dementia/Alzheimer's and infant protection.
Combat hospital-acquired infections by keeping a watchful eye on hand hygiene compliance with 24/7 RTLS data capture. Promote healthy hand hygiene among your staff.
With RTLS badges, you can instantly identify any and all individuals and/or equipment that may have been exposed to a contagious disease. As their movement through the facility is recorded, you have the ability to identify, down to the individual level and at the granularity of numbers of seconds which personnel was exposed. Discover a powerful safeguard for contagion management in any healthcare environment.
Check Out A Sample Return on Investment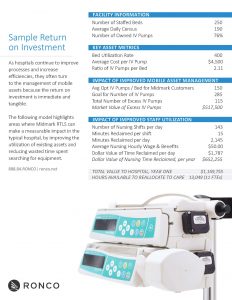 WHY RONCO?
An Experienced Team That's Right Down the Steet
Midmark's real-time location systems improve clinical standardization, realize greater efficiencies, enhance patient-caregiver interaction and contribute to better clinical outcomes. As a Midmark RTLS Certified System Integrator, Ronco has industry experts who pride themselves in the "art" of integration. With over 55 years of experience in healthcare communications, you can expect that your final integration will be done seamlessly. Our teams get the job done right the first time – reducing project time and eliminating the cost of unnecessary service hours. But our job isn't finished once your solution is installed. With full system support, Ronco's service team is only a call away!
Partner With Our
Clinical Consultants
This team of Lean-certified practitioners, clinical consultants, and RNs offer Clinical Consulting as a Service. They work alongside your team to analyze reports, find opportunities for improvement and suggest changes to your technology's workflows.